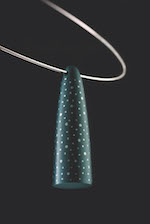 Roger Bennett is an Irish woodturner who makes distinctive coloured bowls and vessels. These are gracefully shaped, often surprisingly thin, and many of them are inlaid with hundreds of silver dots arranged in constellation-like clusters or formal geometric patterns.
He has also developed a complementary jewellery range – pendants, brooches, earrings, cufflinks. They are in the same idiom as his bowls, coloured wood inlaid with silver, and are wonderfully easy to wear, light and silkily sensuous.
Roger's work has featured in numerous exhibitions in Ireland, Britain, France and the USA; he has shown at SOFA New York, SOFA Chicago, CraftBoston and Origin (London). He is included in the Irish Crafts Council's Portfolio selection, and has twice won the woodturning award in the RDS National Crafts Competition. Examples of his work feature in many public and private collections, including those of the National Museum of Ireland, the Ulster Museum, the OPW, and the Irish Department of Foreign Affairs.
He was a member of the Board of Visual Artists Ireland from 2005 to 2014.
A former teacher, Roger has a degree in English and French from Trinity College Dublin. He is a graduate of the Crafts Council of Ireland's Craft and Design Business Development Course. Originally from County Laois, he lives and works in Dublin.
Watch the video now!