Terry Scott: Interview
About the Artist
See http://www.woodturnersunlimited.com/index.php/past-behind-the-art-interviews/85-behind-the-art-with-terry-scott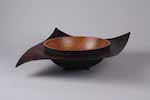 Being a born and bred New Zealander I have been exposed from birth to the awesome beauty of mother nature that all Kiwis freely enjoy. The amazing changing landscapes of this country and the diverse range of timbers available continue to inspire my woodturning. Such an environment fosters my innate passion and life long commitment to all things wood. In recent years my work has evolved and my creations can now be viewed in terms of wood art. I am honoured to have many such pieces residing in notable collections world wide.
It has been said there is a high degree of skill and resolve in my work, yet the end result often appears light and free flowing. These qualities invite the viewer in and allow ones eye to play, while the mind is left to wonder and be inspired.
I have travelled the woodturning world for the last ten years and mixed with many of the world's best turners learning new techniques which I have gone on to further develop and incorporate into my art. These techniques include carving, texturing, colouring and the study of correct form. I delight in stretching the boundaries of accepted convention as can be seen in my winged vessel collection. A desire for innovation can be seen in my multi axis, off centre, out of balance works.
As a result of many years perfecting my craft I have discovered that I gain great satisfaction from interacting and teaching. I have tutored at symposiums internationally in America, Australia, and extensively throughout New Zealand. In 2011 I have were invited to demonstrate in Norway, England and Europe as an international guest demonstrator.
Additionally my works have featured numerous times in woodturning books and magazines while I am a regular contributor of articles for international woodturning publications.
A recent exciting development for me is my involvement in new tool design and testing them for leading tool manufacturers.
I look forward to sharing my knowledge, enthusiasm and creativity with you thus inspiring you to grow and further develop your woodturning passion. Examples of my work can be seen on my website.
Website : http://www.timberly.co.nz/Default
Watch the video now!