Interview: Michael Gibson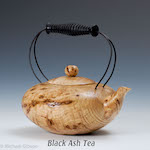 In his early years growing up in England, Michael worked on wooden sailing yachts along the banks of the River Crouch. He moved to the US in the eighties. Working with wood all of his life, Michael was always interested in woodturning and studied for many years to perfect his craft. What began as a hobby blossomed into a passion. He has gained international recognition for his teapots.

Michael was a featured demonstrator at the American Association of Woodturners International Symposium in 2013 and received high honors as recipients of the "Award of Excellence" for one of his pieces. At the 2015 International Symposium he was awarded "Master Choice" in the Merging Exhibition. He demonstrated at the 2016 AAW International Symposium in Atlanta, and was awarded "Peoples Choice" for his piece in the exhibition Turning 30. He has demonstrated for numerous chapters of the AAW and have been feature demonstrator in several States symposiums.
Michael is in high demand as a teacher and his wonderful techniques are taught to students from around the world. During the last several years he has taught in Canada, Norway, England, Turkey, and New Zealand as well as throughout the United States. He has taught in workshops, chapter classrooms and in private settings. His work has been published in many journals nationally and internationally.
The artwork created has garnered the attention of many collectors and has been included in corporate and private collections. His work is sought after by high end galleries and gift shops throughout the world.
Watch the video now!