MTW Archive: Linda Ferber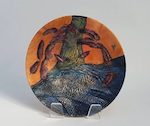 Linda Ferber Interview:
Linda Ferber from the USA, gives a wonderful interview into her career and woodturning life.
Here is a quote from an article on Linda and her work:
"Linda learned of wood working through her father, a hobby woodworker who mainly did flat work and as he got better he devoted more time to do that. She became a his biggest customer for custom work. And then they started to work together. As time went on it got closer to time he could no longer safely handle the equipment. And like a lot of people he liked to buy tools and equipment he had bought a lathe, never used it but he had one, so during the auction I bought that lathe saying well I can continue working with wood. So after I got that, I decided I better learn how to use it. So I took classes and my first teacher was Alan Lacer and he said join the Minnesota wood Turner's and join the AAW so I did those things."
You can read the remainder of the article here: https://godwinswoodturning.com/turning-a-project/linda-ferber-artist-woodturner-program-director-for-the-aaw/
| | |
| --- | --- |
| Duration: | 1 month |
| Price: | €5.00 |