MTW Archive: Sally Ault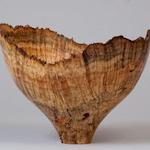 Sally Ault Interview:
Sally Ault - Autobiography
I was born and raised in San Diego, California and graduated with a BA degree in Art with a Crafts emphasis from San Diego State. My work there was focused on Weaving, Jewelry Design and Ceramics. During a furniture class, I discovered woodturning. After a break of a number of years, I resumed woodturning in 2004.
I enjoy all types of wood turning but currently my focus is on lidded containers including the sea Urchin series, open bowls, embellished pieces and jewelry.
My work is shown in the Dunn Gallery in Hawaii, Hawaii, The Real Mother Goose in Portland, Oregon, The gift shop at Anderson Ranch Arts Center in Snowmass, Colorado, at The A Store in Albuquerque, New Mexico and in the gallery at Studio 38 in Spanish Village Art Center in Balboa Park, San Diego.
I have won several prizes over the past 3 years at the Design in Wood Show at the Del Mar Fair. In 2010 I was awarded a "Best in Class' ribbon for a Myrtle Wood Platter and in 2011 a Maple Hollow Vessel was awarded the San Diego Woodturners Special Award. My Sea Urchin Box won a special purchase award at the 2012 Small Image Show at Spanish Village. My Box Elder Burl and Coral piece won an award at the 2014 Small Image Show.
I was a demonstrator at the 2012 Utah Woodturning Symposium in Orem, Utah, the 2012 Wisconsin woodturning Symposium and at a number of woodturning clubs across the country. In fall of 2013 I was accepted for a 10 week Artist in Residency program at Anderson Ranch Arts Center.
I am a member of the San Diego Woodturners Association, American Association of Woodturners, Point Loma Artists Association and Spanish Village Art Center in San Diego.
| | |
| --- | --- |
| Duration: | 1 month |
| Price: | €5.00 |